It is a celebrated idea to add a small apartment on your existing garage. To make it even more budget savvy, you don't have to build it on the upper level as well. Sure, upper level will be nice, but garage and apartment in one level is also a charm. Check out the following garage plans with apartment one level for some inspiration.
See also: 4 Car Garage Plans with Apartment above.
3 Garage and 1 Bedroom Small Apartment
This garage can fit two cars in the main part and one more car on the other. Both parts are connected with a door to make an easy access to each other room. In addition to the garage doors, this is also accessible through the door on the side.
While it makes a decent house for the vehicles, this garage also features a small apartment on the same level. Going through the covered porch, the apartment door leads us to the great room where a small kitchen is tucked in the corner. This room will serve as both the living and dining room.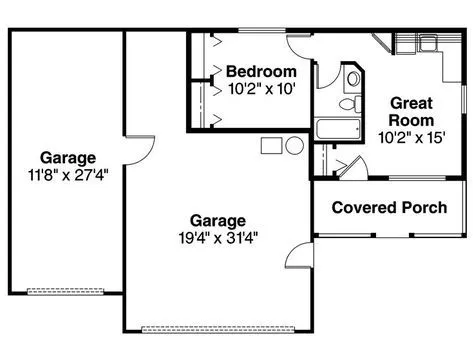 Turning to left, we will find a bath on the left, and the bedroom across us. The bath is completed with tub and all while the bedroom also has closet. Despite the size that is small enough, this apartment is actually efficient and spacious enough for one or two persons.
This apartment unit can be a nice investment if you rent it. Many young people will like the simple living like this. However, it will be a cozy quarter for your elderly too. You can keep them close to you without taking their freedom and independence.
2 Car Garage with Spacious 1Br Apartment
This garage plans with apartment one level can only house two cars, but it will keep the room spacious for additional storage too if you desire. It is a simple garage with large room to give you freedom with whatever you want to do here. Plus, it has a small apartment too on the other side of the property.
The apartment can be accessed from the door next to the garage. It has a small entrance at the front, so it will be nice. Passing the apartment door and coat closet, you will find a space that is used for dining and living area, right next to the kitchen and a door leading to the garage.
Walking down the hall, you will find a bath on your right completed with tub and all the necessities and a bedroom at the far end. This bedroom is perfect for up to people and it is completed with closet too.
It can be an ideal guest house where you can let your extended family stays whenever they visit. It gives them, and you, privacy without compromising the comfort. Hence, it will make a great investment too as it is a nice looking rent unit.
Garage, Workshop, and Apartment Everyone!
This is a great garage plans with apartment one level. The garage is really spacious and it can house up to two cars nicely. It is roomy enough so that if you keep two cars all at once, you still have the space for doing your mechanical thing because it is designed to be large enough for a small home workshop.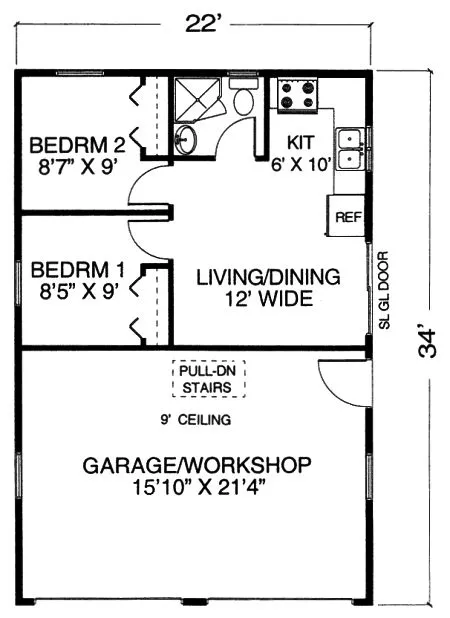 On the back of the garage, there is an apartment with slide and glide door ready for rent or for a nice guest house. The apartment is completed with a large room that can be used as a living and dining room. It also has a small kitchen and a full bath while it offers two bedrooms with closets. It can be up to four persons guest house.
Renting this unit while vacant will make a nice income and it can be your guesthouse when you need it. It doesn't too big as well, so building this unit will be budget friendly too especially with it being in one level with the garage. Privacy is guaranteed surely, which is best..
A Good Looking Apartment Next to the Garage
If you like a good looking apartment on your garage site, this is one of the best garage plans with apartment one level to build. The garage can house two cars, and it still has a little space for your cabinet, some storage, trash cans, and bins.
Next to the garage door, there is another door behind the covered porch. This door leads us to the apartment next to the garage. This small apartment looks like a nice and comfy dwelling with the porch and it offers a large living room.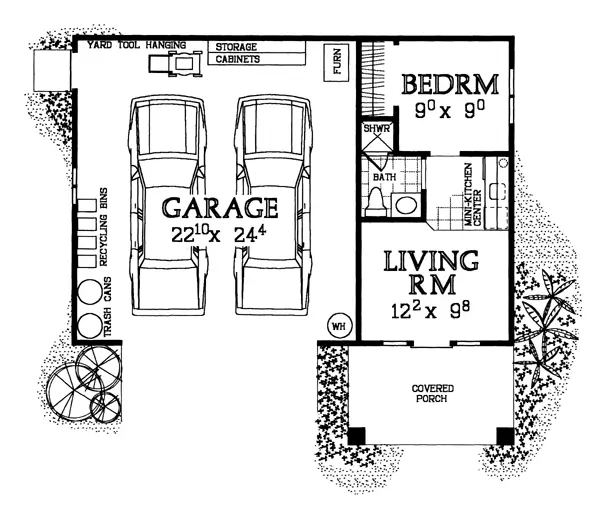 Walking through the living room, you will find a mini kitchen on the right and a bath with shower on the left. So far, this apartment seems to have everything for a perfect guest house. At the end of the hall, there is a bedroom completed with closet, and it is perfect for up to two persons.
This apartment looks very dignified, elegant, and comfortable at the same time. It will sell out if you rent it, definitely. Yet, it will make a nice and welcoming guest house for your visiting kindle.
2 Car Garage with 2Br Apartment
This garage plans with apartment one level doesn't only house two cars comfortably. It also offers a little space for work bench if you like working on your own cars. On the upper level, this garage also has an additional storage and a large loft for any purpose you can imagine.
Meanwhile, the ground level also offers a nice small apartment. This apartment can be accessed through the door near the upper level stairs, but it can also get accessed from the side apartment door.
The apartment has a large room that will be great for a dining and living area. A small kitchen is also added to cater the resident needs for meal prep, and it has two baths. One bath is a shared one. The other one is inside the master bedroom. So yes, there are two bedrooms here.
It will house your visiting family up to four adults in this apartment, and it has all the comfort and privacy. While vacant, you should consider renting it. Considering that it accommodates many people, income shouldn't be bad at all.