A garage with apartment above is a great option for a guest house as well as renting units. People like the privacy, and the plan isn't so complicated too. If you like this idea, you may need a little insight on how it looks later. Check out the following 4 car garage plans with apartment above for inspirations:
Read also: How to Build a Garage Apartment Cheap
1. 4 Car Garage with Apartment Above. Big Holiday Rent Apartment Plans
This plan really thinks about privacy for those who use the upper apartment. The garage respectively houses four cars. Each two cars are on one part of the garage. The right side of the garage is a little bigger than the other and it has stair access to the upper level.
After climbing the stairs you will find an apartment on the entire floor. You will immediately find a large room divided into living room, and a kitchen with a small pantry. This room exercises spacious dimension to be used by the entire family.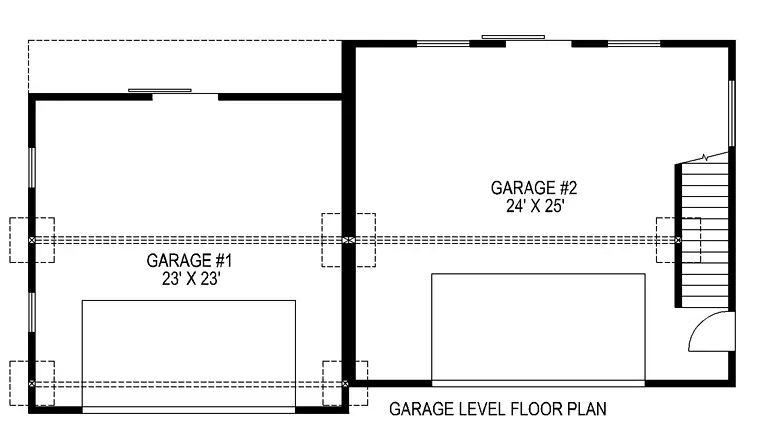 On the far end of the apartment, there are three bedrooms. One is the master one with a private bath with tub. One bedroom is large enough for even two people, and the last bedroom is pretty small. These last bedrooms will share a bathroom near the living room.
If you are visited by your family often, this apartment should give you and your guests some space and privacy. Even their parking will be kind of private too. As for a renting unit, it will bring a great income with high market potential with the occupancy rank is high.
2. 1 Bedroom Apartment Over the Garage
This plan is probably the best for a single bedroom guest house or a rent unit. While housing four cars at once, this garage actually offers more too. It has a small house and a room you can use as storage or mechanical room. Three cars go at the front, and the last one goes from the side door.
The stairs leading to the above apartment can be accessed from the front garage and from a side door. Climb the stairs, and you will find yourself right on the apartment hall. In front of you, there will be a pantry too.
If you turn to the right, you will find a full bath on the right and a laundry on the left. This plan is very convenient for daily activities truly. At the end of it, you will find the bedroom with double closets in it.
If you turn left from the apartment hall, there is a kitchen and a great room that can be used as a living room and a working area with a big window facing the front of the house. It is spacious and very comfy.
3. 4 Car Garage with Loft, A Guest House with Deck
This garage has everything. It houses up to four cars in its carriage house look, and it even has a camper bay on the side. This garage is large enough so it has its own lavatory too in its ground level. However, the excitement doesn't end there.
After climbing the stairs, we will enter a large apartment. At the end of the stairs, you can see the bathroom right across. Turn right and you are welcomed by a spacious room, a kitchen on your right and a dining area on your left. The living room is at the end of the room.
The living room gives you an access to the deck outside, which is a perfect place to get some fresh air and to enjoy the view. Right behind the living room, there is a connected bedroom that is large enough for a master.
This combination, 4 car garage plans with apartment above is a perfect rent unit in which guests can get enough privacy and space all day. If you use it as a guest house, your family will love spending time to visit you all the time without the risk for you to feel disturbed.
4. 2 Bedroom Apartment on Top of a Large Garage
This property alone is really large, and it can be your actual permanent residence if you want to. The garage is perfect for four cars, and it still has rooms for workshop, mud room, two closets, and a mechanical room. The garage is divided into two large areas with one of them has indoor stairs to the upper level.
The apartment above can be accessed with an elevator, and two stairs. On the exterior, the apartment is completed with sun room and deck. It also has two bedrooms with a shared bath, a study or working room, walk-in kitchen, a living room, and a dining area.
Every room has an access to large windows, and the floor plan is just perfect with enough rooms for everything. While it will be a great unit to rent, it is a decent option if you decide to use it as your own home.
The best part of this 2 car garage plans with apartment above is probably on the sun room. While it can be accessed from inside the apartment, the exterior stairs also allow you to do the same. It will be a nice spot for almost anything any season. I think this 4 car garage plans with apartment above is very nice.
5. Cozy Little Apartment over the Garage
This modern garage looks gorgeous on the outside while it offers something more on the inside. The garage can house up to four cars, even when one of them is an RV. One part of the carport is made two stories high to accommodate an RV, if any.
The garage is completed with interior stairs to access the apartment above. After climbing the stairs, you will see a utility room. Continue entering the apartment, you will find a large area that is used as a kitchen completed with a small pantry, one bed room and one master bedroom with a walk-in closet, and a bath.
While the floor plan is efficient, this apartment is also spacious with every room has large windows for additional natural lighting. Privacy is guaranteed, and it is super comfortable for being a complete unit.
It will make a decent guest house that you can open whenever the extended family visits, while it will also make you a lot of money for a renting unit.